NATIONAL UPDATES: Black Wall Street USA Districts
The Stradfords of Black Wall Street Tulsa
2017 Top Black Business Events
2017 Top Black Business Events
NATIONAL UPDATES: Black Wall Street USA Districts
The Stradfords of Black Wall Street Tulsa
Black Wall Street USA recognizes Dr. Charles J. Ogletree, Jr.
San Diego
New Member Book: Living Freedom: A Paradigm Shifter's Guide to Ending African American Genocide
The Stradfords of Black Wall Street Tulsa
Lee TruVision Sponsors Memberships

KBLX 102.9 FM: Enter to Win BWSUSA a Membership
San Francisco Bay Area
Black Wall Street USA promoting economic empowerment.
The Arizona Informant Newspaper
Need for Reparations for the Tulsa Oklahoma Survivors
Black Wall Street USA recognizes Dr. Charles J. Ogletree, Jr.
San Diego
Black Wall Street USA promoting economic empowerment.
The Arizona Informant Newspaper
Need for Reparations for the Tulsa Oklahoma Survivors
Go Fund the Movement for the Next 300 Years
Black Wall Street USA Southwest Region Advisory Board Meeting
Black Wall Street Oakland has a new District President
Black Wall Street Los Angeles Board of Directors seated
Dr. Michael Carter Guest at Black Wall Street District San Diego Mixer |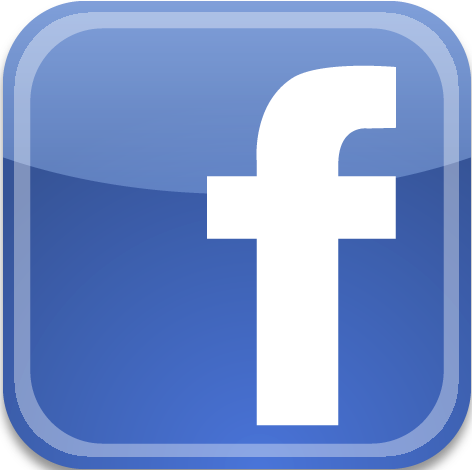 BWSD Oakland Sponsors "Levelling The Playing Field" event 11/16/11
San Francisco Chronicle:
Black Wall Street paves way to success
Black Wall Street District Oakland
Celebrates Small Business Month
09/29 Mixer @ Pican's (85) |

09/25 Raiders vs. Jets (212)
09/22 Mixer @ Milano's (58)
09/15 Mixer @ Otaez's (53)
09/08 Mixer @ Diamond's (141)
09/1 Mixer @ Vo's (75)
() = Total Attended
2011 Black History Month Celebrations in Oakland
Black Wall Street District San Diego Professional Business Mixer
National Reception in Black Wall Street Oakland
Black Wall Street Oakland September Small Business Month - Press Reception
Black Wall Street Oakland Non-Profit Grant Writing Workshop
Black Wall Street District Oakland Forum on AIDS/HIV
New Black Wall Street District San Diego Facebook Page
San Jose Mercury News:
National Campaign to 'shop black'
Oakland Tribune:
National campaign to 'shop black' comes to Oakland
Dr. Michael Carter Speaks at San Diego Black History Month Celebration
National President of Black Wall Street District-USA
honors Bishop George D. McKinney Sr. Ph.D., D.D., Sr., Pastor of
St. Stephens Church of God in Christ 5825 Imperial Avenue in the
Black Wall Street District of San Diego.
Oakland Local:
Celebrate Black History Month with Oakland's Black Wall Street District
Chicago Now
Dr. Carter visits San Diego Black Chamber Of Commerce
September Mixer. Organized by the Black Wall Street District San Diego team.
Rev. Carter will discuss the contract inequities in California and the state's
unfair bidding and contracting process and
reaffirm the national BWSD USA's support for the CSDBCC's efforts. The Se San Diego Hotel 1047 5th Avenue Downtown San Diego
Editorial - Minority Businesses...after January 8
Only Jesus Will Get Us Through
The Business of Staying in Business
Business Development Workshop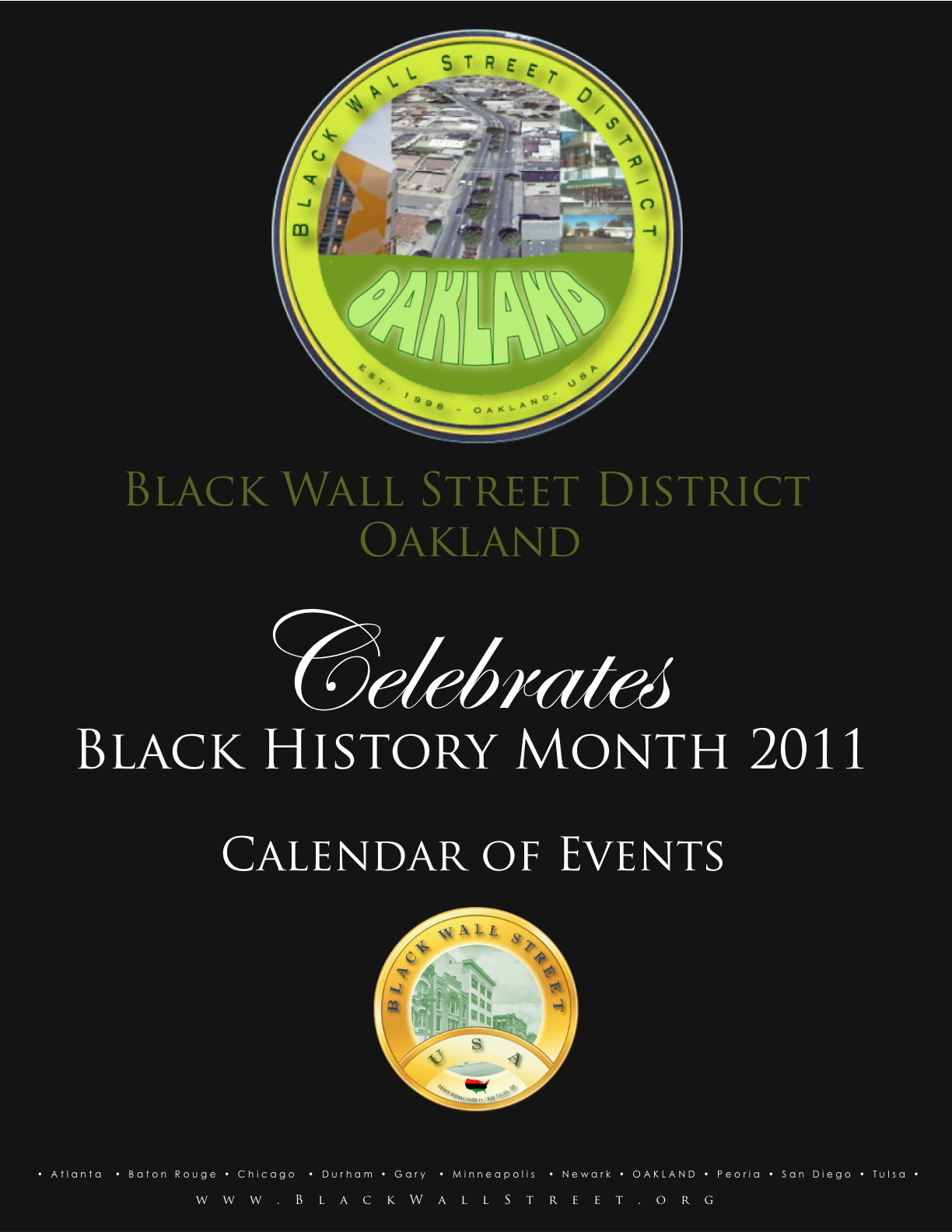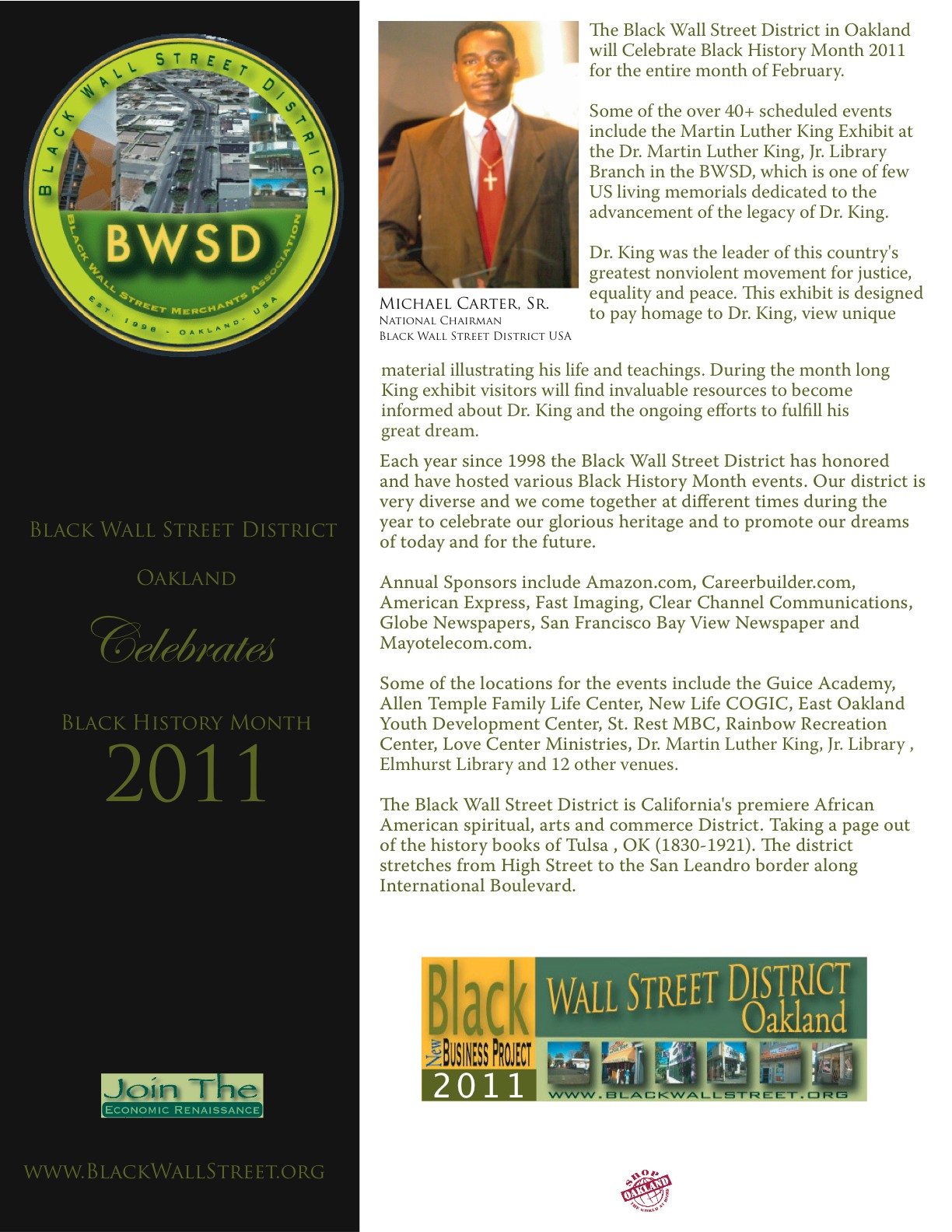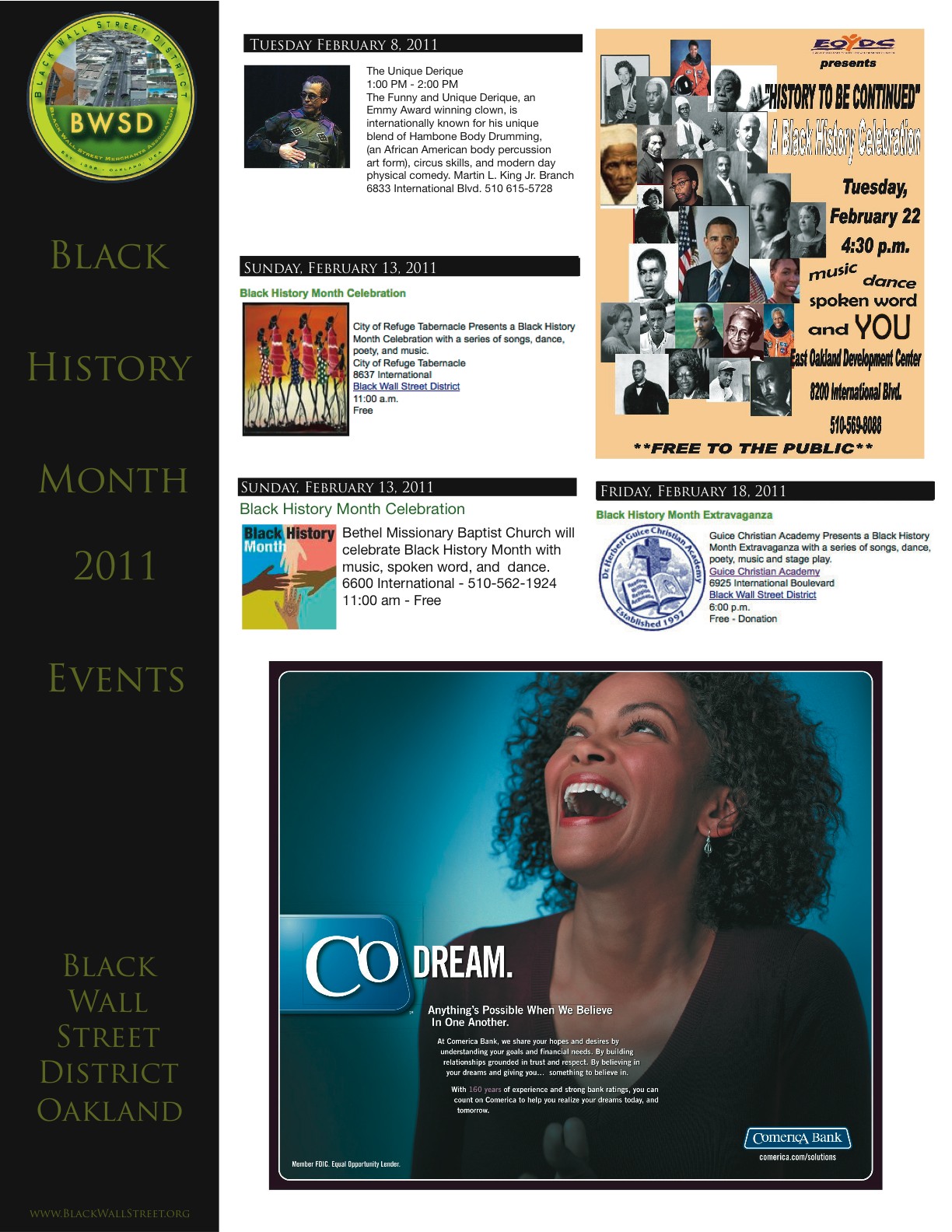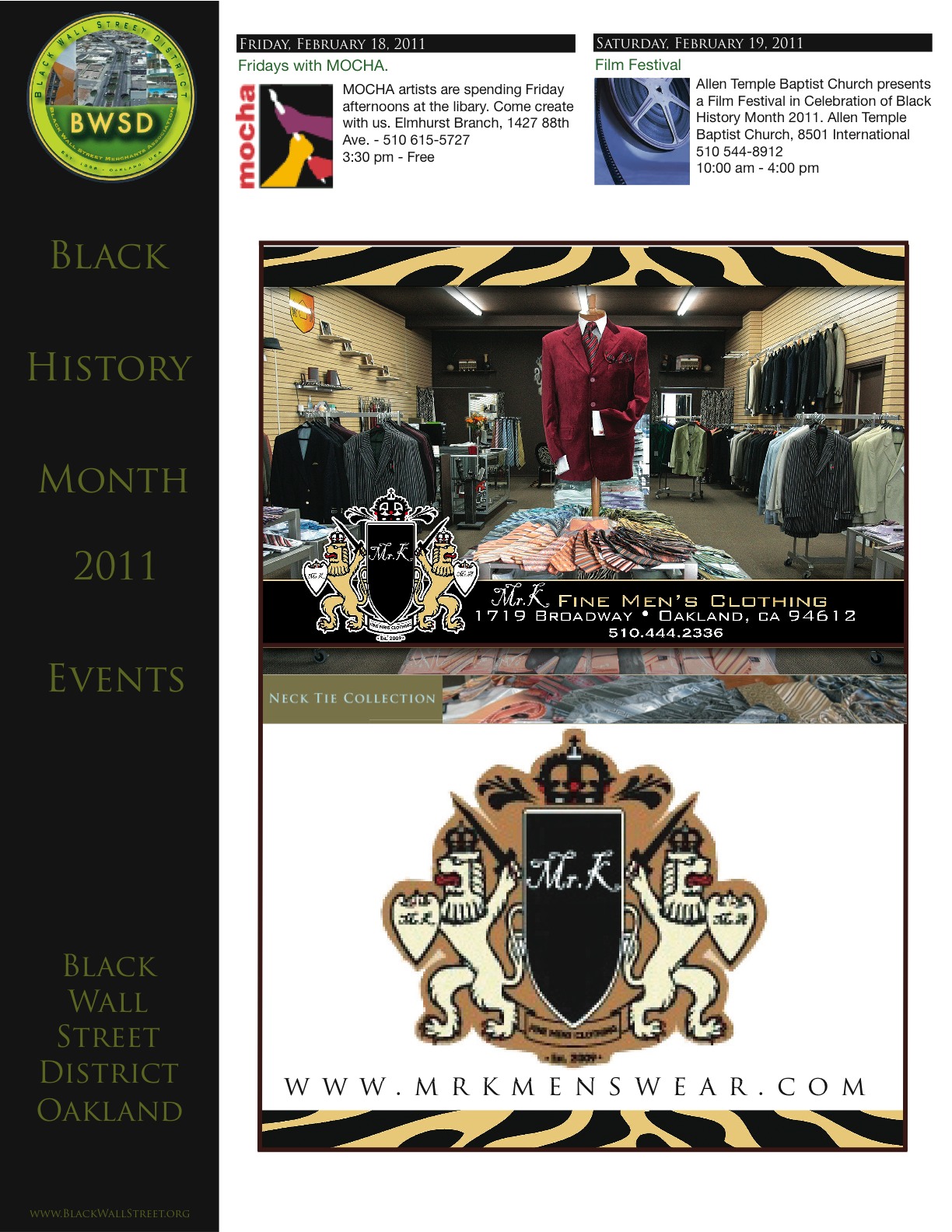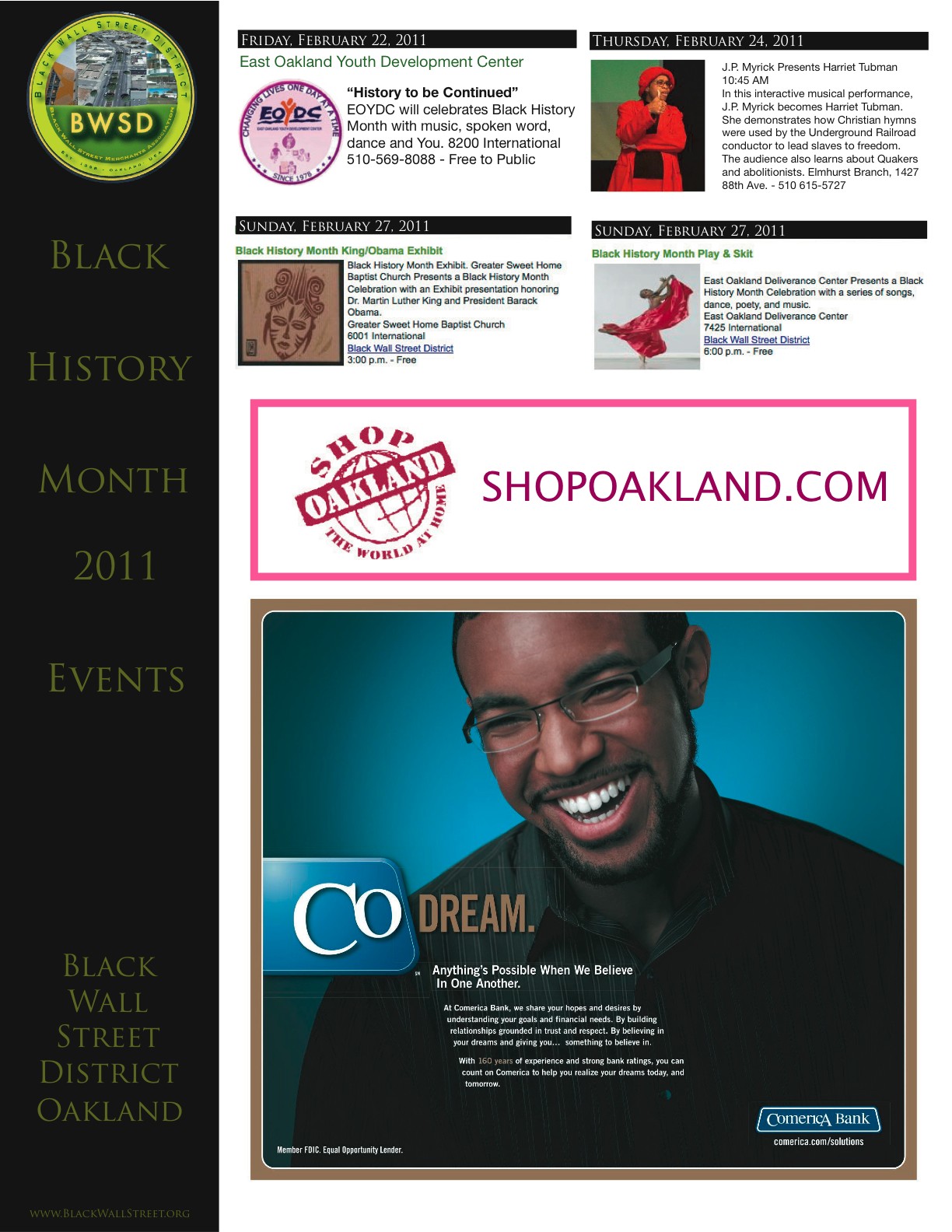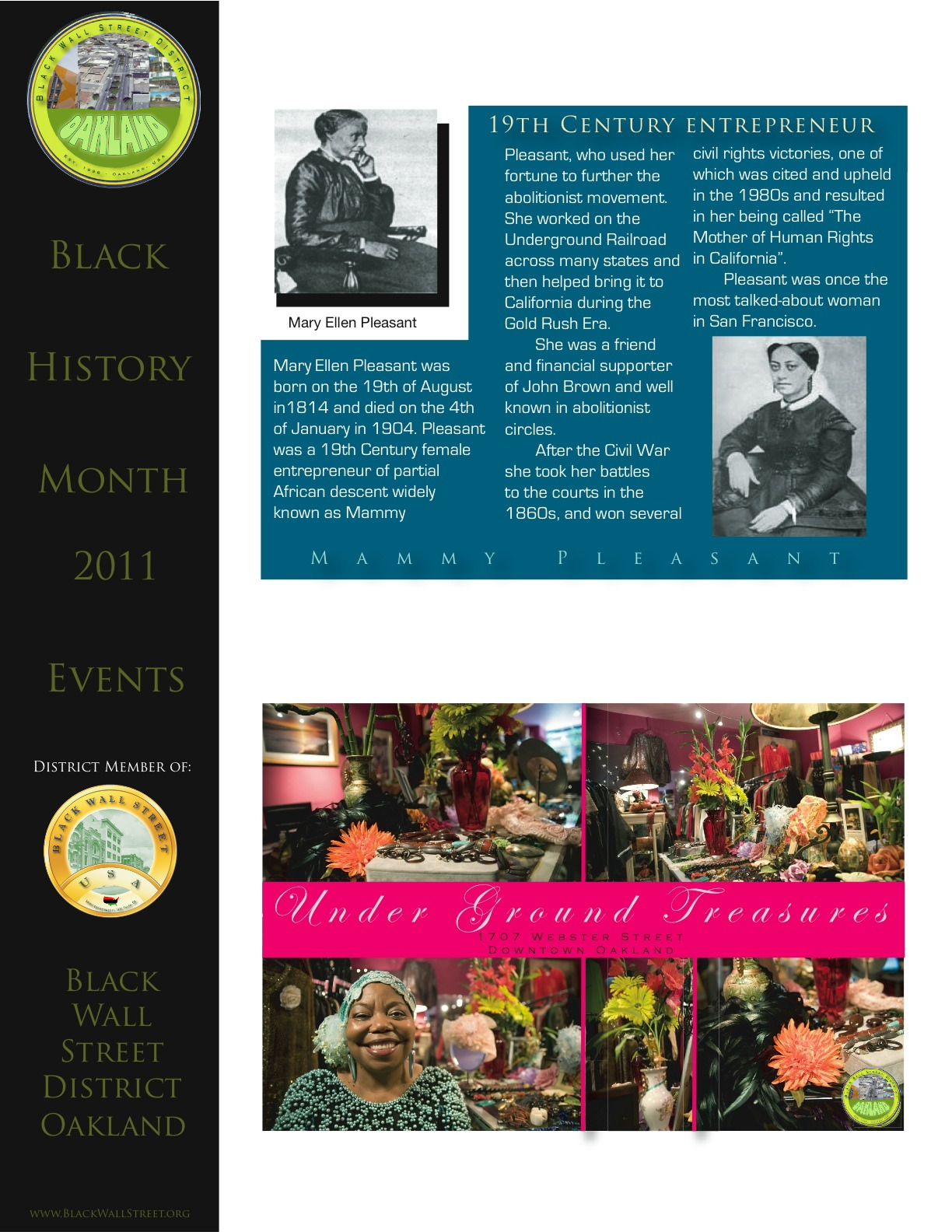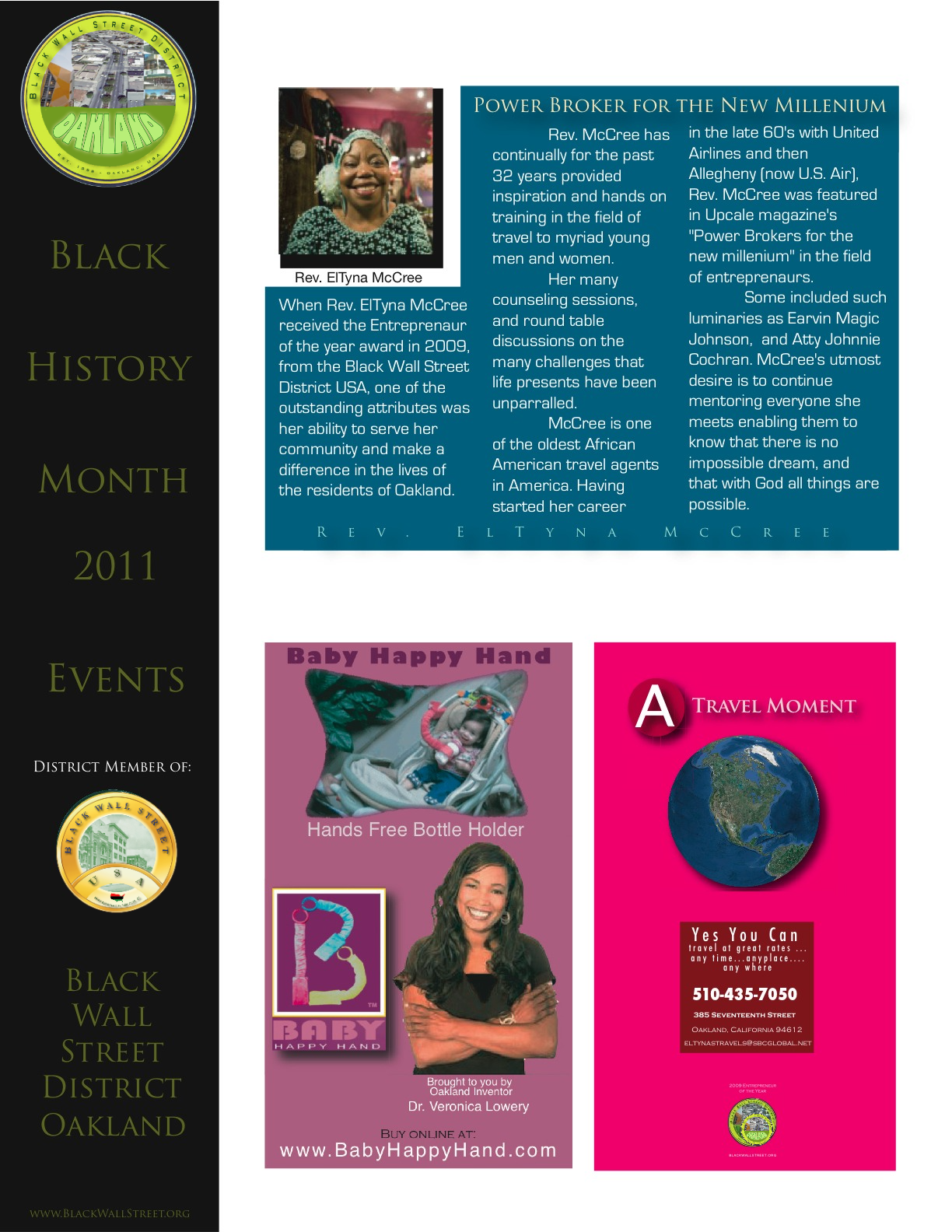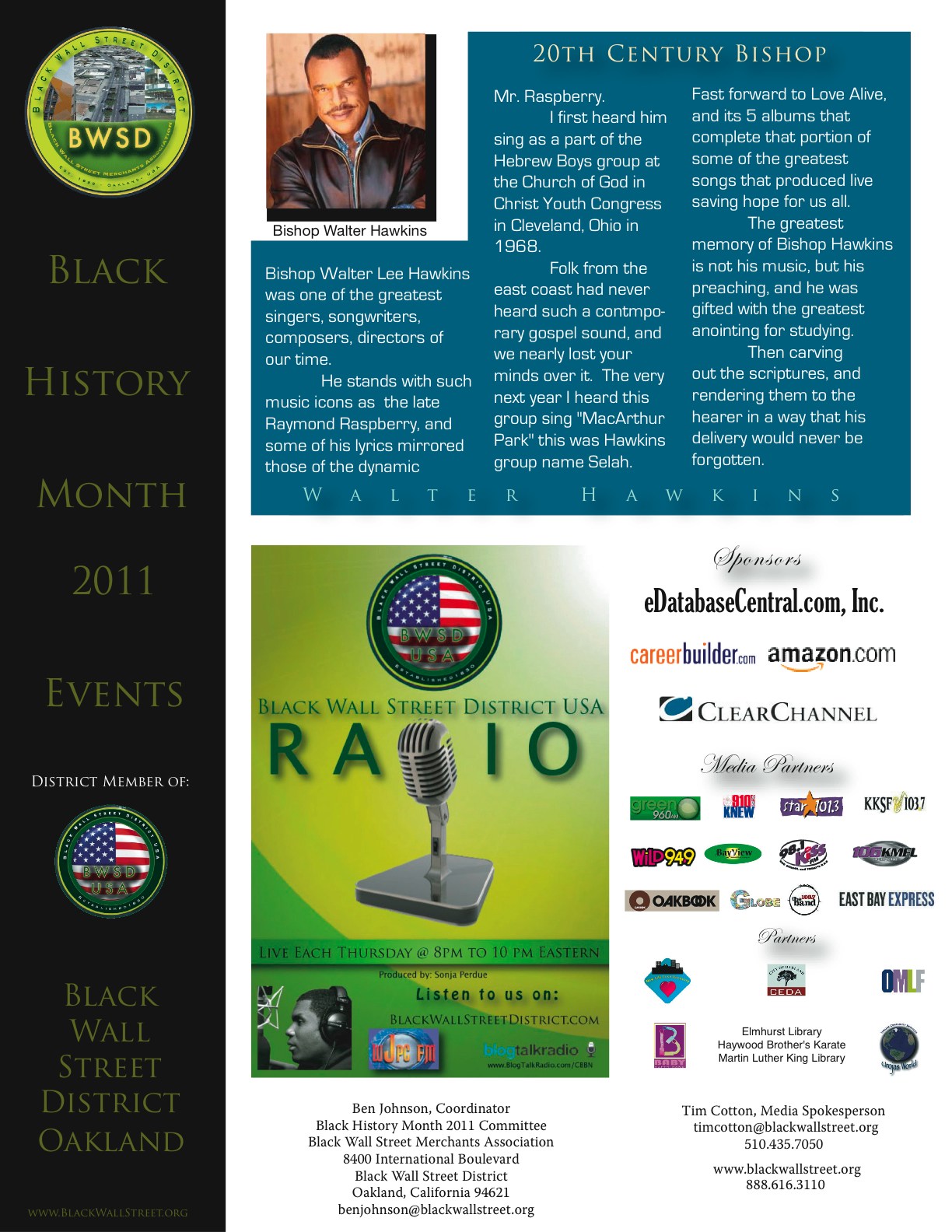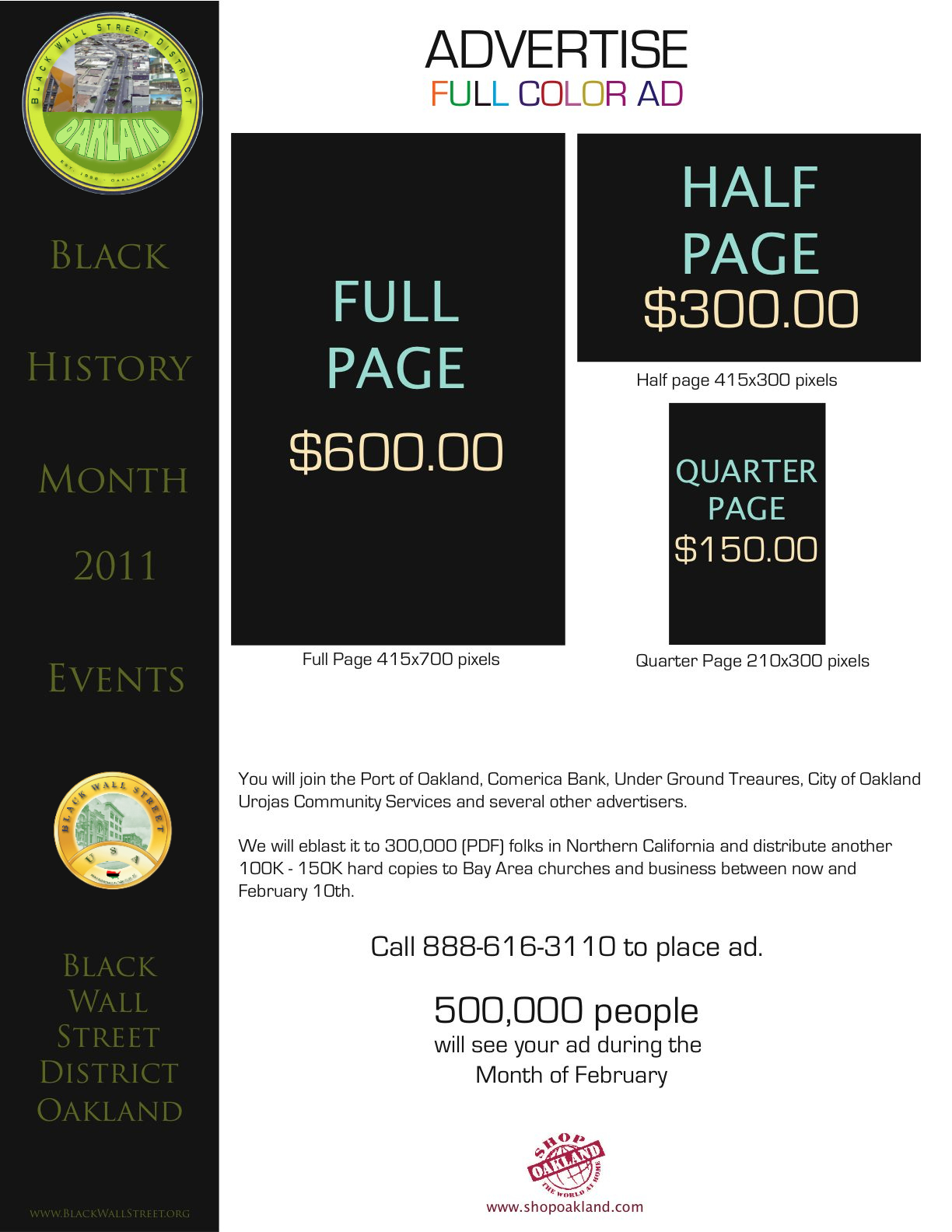 2/1-28/1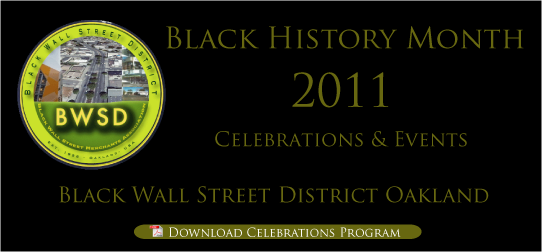 Special Thanks to our Media Sponsors




Black Wall Street District Grows - "It's in the Spirit"

The Black Wall Street District: Oakland's Premiere African American spiritual, arts and commerce District

Black Wall Street Districts' AMPM Celebrates 32 Years

Workshop: Oakland's Enterprise Zone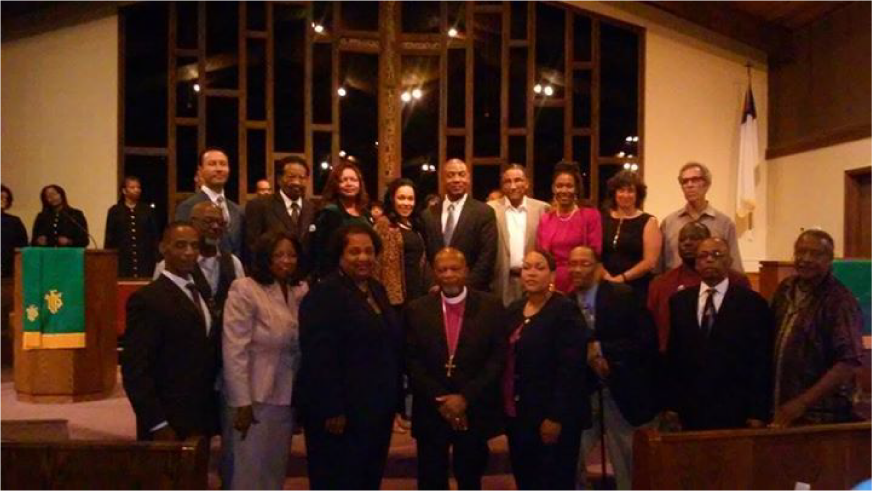 After-hours Black History Month mixer w/ Black Wall Street Merchants
Black History Month Calendar of Events - February, 2008
Cultural events scheduled this weekend
Variety of cultural events this weekend
Comcast: East Bay Perspective
Crossroad Shelter Is Built Green to Heal
Chicago's plan patterned after the Black Wall Street District Oakland
Commentary: Port of Oakland Appontment
Black Wall Street District Oakland 2008 Black History Events
Black Wall Street District Oakland 2007 Black History Events
BWSD: Keeping that strong legacy alive.
Obama in East Bay's melting pot
City of Oakland Partners with Black Wall Street District Oakland
CIRM seeks diversity to fund stem cell research
Black Wall Street District Oakland co-sponsor Luncheon
CEDA and Black Wall Street District Oakland host breakfast
CEDA and Black Wall Street District Oakland to host breakfast
Luncheon: How to do business with Caltrans
Black Wall Street District Oakland


Network Luncheon Series Bay Area Black Chambers -9 - Super Mixer Coliseum Lexus 7273 Oakport Oakland

Black Wall Street District Oakland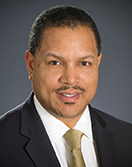 Network Luncheon Series
Timothy Simon, California Public Utilities Commissioner
Waterfront Hotel
Jack London Square
Black Wall Street District Oakland
First Saturday's Business Development Small Business Topics
Black Wall Street District Oakland
First Saturday's Business Development Small Business Plans

Black Wall Street District Oakland
First Saturday's Business Development Business Professionals and guest speakers
Black Wall Street District Oakland
Haywood Brothers Karate
4430 International
Black Wall Street District
Black Wall Street District Oakland


Network Luncheon Series
7th State Of Black Business Address Ron Dellums,Oakland Mayor
Geoffery's Inner Circle
410 14th Street
Black Wall Street District Oakland
Network Luncheon Series
Zach Hall, Ph.D., President, California Institute for Regenerative Medicine Zazoo's Restaurant, Jack London Square
Black Wall Street District Oakland


Network Luncheon Series Will Kempton CalTrans Director Emeryville Holiday Inn
Black Wall Street District Oakland


Network Luncheon Series Steve Westly Gubernatorial Candidate Everett & Jones Jack London Square

Network Luncheon Series: Will Kempton CalTrans Director
Caltrans Disparity Study results and its potential impacts on DBEs and local agencies and businesses was discussed. Oakland Estuary Jack London Square
First Saturday's Business Development Small Business Employment II
First Saturday's Business Development Small Business Financing III
First Saturday's Business Development Small Business Financing II
Black Wall Street District Oakland


Network Luncheon Series Ron Dellums, Oakland Mayor-Elect @ Geoffery's Inner Circle
410 14th Street
Black Wall Street District Oakland



Network Luncheon Series - Don Perata Speaker ProTem California Senate Geoffery's Inner Circle 410 14th Street
Black Wall Street District Oakland
Recap


Network Luncheon Series John Garamendi California Insurance Commissioner Waterfront Plaza Hotel
Black Wall Street District Oakland



Networking Bteakfast
Dan Vanderpriem CEDA City of Oakland 9101 International Blvd Black Wall Street District
"Doing Business With Caltrans" Luncheon
Grad Nite/Voter Registration Celebration'
Voter Registration Celebration'
Voter Registration Celebration
After Hours New PUC commissioner welcomed
Lunch w/ Candidate Steve Westly
Memorial Day Lunch w/Candidate Steve Westly
Free Memorial Day Lunch w/ Gubernatorial Candidate Steve Westly
Winners of Lunch with Steve Westly at Everett & Jones
Free Memorial Day Lunch w/ Gubernatorial Candidate Steve Westly
BWSD Merchant AMPM Celebrates 30 Years
Students can get a college scholarships
Dellums: 6th Annual State of Black Business
Food 4 Less Opening on Black Wall Street in Oakland
Ron Dellums To Kenote Business Luncheon
Black Wall Street District Oakland hold Healthy Oakland event
All's well on Black Wall Street
Luncheon: John Garamendi CA Insurance Commish
Luncheon: CA Insurance Commissioner John Garamendi
Carter: Ed Dillard President of Black Wall Street District Oakland Merchants
Ed Dillard new president of Black Wall Street District Oakland
Oakland City attorney: How to gain a voice
Black Wall Street District Oakland Gains Businesses
Black Wall Street District Oakland and BOBSA Connect The Black Dots
Black Wall Street District Oakland Launch New Business Project
BlackWallStreet.org and The InterServe Network Join Forces
Black Wall Street District Oakland Home Buying Seminar will help qualify future home owners
Groups advocating for black firms mull future
Black chamber of commerce seeking members
New Black chamber seeks members
PG&E Diversity Supplier & Subcontracting Seminar
PG&E Diversity Supplier & Subcontracting Seminar Saturday, August 9, 2003 10:00 AM
Black Wall Street District Oakland: Local Black Bank Branch
Black Wall Street District Oakland: Local Black Bank Branch
Black Wall Street District Oakland
Black Wall Street District Oakland
First Saturday's Business Development Contract Equity Seminar
Riders Cafe - 9101 International Blvd - BWSD
Black Wall Street District Oakland
First Saturday's Business Development Working The Press Workshop
Riders Cafe - 9101 International Blvd Black Wall Street District

Black Wall Street District Oakland
First Saturday's Business Development Business Financial Seminar
Harold Lowe, Financial Planner
Riders Cafe
9101 International Blvd - BWSD
Black Wall Street District Oakland
First Saturday's Business Development Working The Press Workshop
Riders Cafe - 9101 International Blvd Black Wall Street District

Black Wall Street District Oakland
Supplier Diversity Seminar
East Oakland Deliverance Center 7925 International Blvd Black Wall Street District
Black Wall Street District Oakland
First Saturday's Business Development
Oakland Business Incubator Center - 675 Hegenberger Road
Black Wall Street District Oakland
Small Business Health
Riders Cafe - 9101 International
Black Wall Street District
Black Wall Street District Oakland
First Saturday's Business Development Business Capitalization
Oakland Business Incubator Center
675 Hegenberger Road
Black Wall Street District Oakland
First Saturday's Business Development
Black Art & Crafts
Brookins A.M.E
Black Wall Street District
Black Wall Street District Oakland
First Saturday's Business Development Business Finance
East Oakland Deliverance 7925 International Blvd
Black Wall Street District Oakland
First Saturday's Business Development Business Mixer
Riders Cafe - 9101 International
Black Wall Street District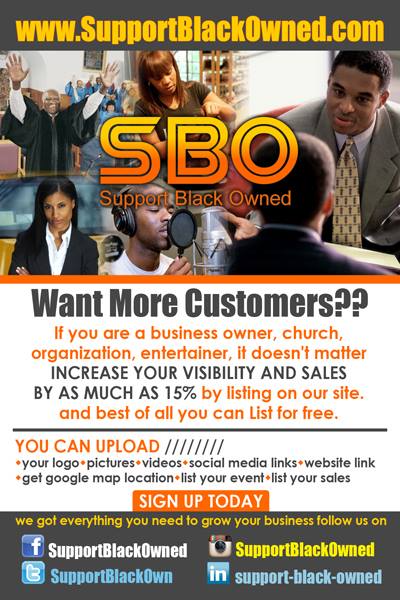 Black Wall Street: Oakland's Version
Black Wall Street District Oakland organization seeks African-American investment in community
Black Wall Street District Oakland wants local black bank branch