 The Stradfords of Black Wall Street Tulsa
Laurel Stradford marks the 95th Anniversary of the Tulsa Race Massacre and remembers her own family contribution to a nation's Economic Security.
Peaceful demonstrators from five continents gathered this week marking the 50th Quadrennial Conference of the African Methodist Episcopal Church. The late Reverend James Milton Stradford migrated from Short Creek, Alabama to Cleveland, Ohio and raised a clan with his bride Alma Thomas under the Stradford brand. In all, 14 Black Lives mattered at the Greater Avery AME Church on Cleveland's east side.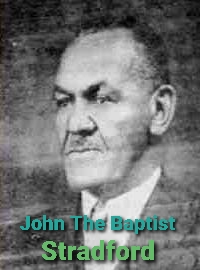 The Stradfords of Cleveland are among nearly 13,000 A.M.E. Church Members Connecting Around The World, sharing passion and purpose for America's future. Through Facebook, they're discovering remnant relatives to some shared values and, perhaps some insight on what is really wrong in America. Since 1999, Stephanie Walker Stradford and her husband, Eric, have promoted an 18th Century business model for socioeconomic repair.
The Stradfords, and other historically disadvantaged kinfolk, are bridging a "learn-to-earn" divide between politics, economics and the historical Black church. Planners for the 95th Anniversary of The Tulsa Race massacre called on Laurel Stradford of Chicago for this years" keynote address. Laurel and other Stradfords around the globe are reflecting on their past and shedding light on some historically systemic problems that might ultimately "Make America Great Again."
Political slogans in a year of presidential campaigning can and should move a nation from CHAOS to COMMUNITY. Like many other Americans, Laurel Stradford's trail of tears takes us back to the rise and fall of the Stradford Empire, along with the massacre of 800 Blacks between May 31 and June 1, 1921.
That was the year that a Gulf of Mistrust in Tulsa, fueled by racial emotions, was evidenced by some thirty-six square blocks of the most successful black-owned enterprises in America. The Stradford Hotel, owned by Laurel's great-grandfather, was the largest business on the block.
J.B. Stradford arrived in Tulsa via railroad in 1898 with his wife, Augusta. J.B. was the son of a former Versailles, Kentucky slave, who had been named Caesar by his slave owner. During Caesar's time in slavery, his owner's daughter befriended him and taught him to read.
By 1863, Caesar was reading well. He read about the Emancipation Proclamation and petitioned his owner for his freedom. While on travel from Woodford County, Kentucky to Stratford, Ontario, the owner granted Caesar his freedom. Caesar gave himself the last name, Stradford, after the city in Ontario, changing the "t" in Stratford to a "d". Caesar worked and saved his money.
Returning to Kentucky, Caesar passed the lessons he learned on to his family. He executed his plan, liberating his family from slavery and giving them a proper, last name.
Caesar's firstborn, J.B. Stradford, reinvested in his father's vision and name to become an Indiana University trained attorney. J.B"s interests ranged from social justice and racial solidarity to real estate development, which he applied to an influx of Black Americans streaming into the Indian Territory.
The J.B. Stradford Empire was comprised of real estate income from two dozen rental properties – worth nearly $2 million dollars.
The Stradford Hotel at 301 N. Greenwood was his crowned jewel. At the time, it was the largest back-owned, black-operated and black-guest-only hotel in America. The structure housed fifty-four "modern livings rooms," a gambling hall, dining room, saloon and pool hall. Jazz from the Stradford Hotel and the Commodore Cotton Club across the street filled Greenwood residents with the joy of the freedom to dance and play without repercussions.
Much of Tulsa's white community disapproved. They also disapproved of J.B. Stradford who litigated against the railroad for not providing proper Black accommodations. He stirred the pot regarding illegal segregation and publicly rallied against Oklahoma's Jim Crow Law.
He also voiced outrage about Black lynchings of "peace loving" American neighbors by mobs. We could fast forward 95 years to 2016 hoping to celebrate "a more perfect union," if not for the reality of a dream deferred. Laurel's "Aunt Jewel" reinvested some J.B. Stradford values to become the first female deputy solicitor general of the United States.
Aunt Jewel served as an official in the George H. W. Bush administration and as an attorney in Chicago. She died May 31, 1997.
J.B. Stradford's ambitious and engaging grand-daughter, Jewel, stood on some pretty solid shoulders. Her dad, C.F. Stradford, was a pioneering civil rights attorney and co-founder of both the National Bar Association and the Cook County Bar Association.
For the past twenty-seven years, the Cook County State's Attorney's office has been recognizing distinguished attorneys and judges within the African-American community with the C.F. Stradford Award. Jewel Stradford married Jack Rogers who was several years older and had served in World War I as one of the first Tuskegee Airmen.
At first, Jack was denied entrance to college because, "We don't allow black people in here." Rogers went home, put on his military uniform and returned to the law school, declaring, "I just served my country. You are going to put me in this law school."
The prestigious school admitted their first black student. Subsequently, Jack Rogers and Jewel Stradford were among the first Blacks to gain admittance to the University of Chicago School of Law.
Their marriage brought two more attorneys into the Stradford legacy. Jewel had a brother, C.F., Jr., who became Laurel's father. Laurel's mother, June Howes Stradford, hailed from a white, aristocratic British family.
Her relatives immigrated to the United States during the colonial years, settling on the East Coast. June would move to the Hyde Park neighborhood of Chicago. June's girls were bi-racial kids in the 1950s.
Laurel's dad, C.F. Stradford, Jr., owned a string of funeral homes and did some investigations for the State of Illinois. He had an official badge, a gun, and a life-style that ultimately resulted in more quality time for Laurel with her Aunt Jewel.
The Rise, Fall and Recovery of the Stradford Empire might have been a model case for The Joint Center for Political and Economic Studies if the think tank thought to explore that path to Economic Security.
They would certainly be impressed by provisions of USA PATRIOT Act aimed at terrorism, but somehow confuses the issue of just who is the terrorist and who is the peace-loving American neighbor. For the record, an Act of Congress was signed into law by President George W. Bush on October 26, 2001.
Known by its ten-letter abbreviation (USA PATRIOT), the full title is "Uniting and Strengthening America by Providing Appropriate Tools Required to Intercept and Obstruct Terrorism Act of 2001".
Even before there was a USA PATRIOT Act, J.B. Stradford was running to escape the long arm of the law. Profiled and detained during the 1921 Tulsa Riot, J.B. Stradford somehow got loose from a detention center and boarded a train for his brother's home in Independence, Kansas.
As the train pulled slowly past Greenwood Avenue, J.B. looked down the street at the remnants of his community and his hotel which was a smoldering pile of bricks.
J.B. had been charged in Tulsa for "inciting a riot." The penalty was life in prison or death. J.B. called his son C.F., a graduate of the Columbia School of Law, who lived in Chicago and stuffed $500 in cash in his pocket before climbing aboard the first train to Independence.
After C.F. posted bond for his father, and with no regard for the police requirement to stay in Independence, the indicted man and his son headed for Chicago. There J.B. would successfully fight extradition to Tulsa.
Although he tried to duplicate his fortune in his new hometown, it did not happen. But, the influence of J.B. on his descendants is undeniable; education was a cornerstone of his heritage.
He and Augusta met at Oberlin College in Ohio. They are named as the first blacks to enter and finish Oberlin. Future Stradfords from the J.B. clan were college graduates and several became lawyers.
NorthTulsa100™ a Tulsa-based public charity, organizes a local movement to commemorate the 100th Anniversary of The Fall of Black Wall Street.
Black Wall Street USA is a national effort educating disenfranchised heirs to the Black Wall Street legacy.
Written By:
Eric Stradford is a retired U.S. Marine Corps Information Specialist and national correspondent to The Christian Recorder, a publication of the African Methodist Episcopal Church. He publishes via The American Mentor Wire Service, TheEnterpriZe from slaveship to spaceship and multiple social media channels.
Stephanie A. Walker Stradford is a broadcast journalist and editor who serves as the Chair and CEO of YouthUSA.net. Youth Achievers USA institute is a national 501c3 public charity.